S5 Wedges - Blue Ion Steel, Right Hand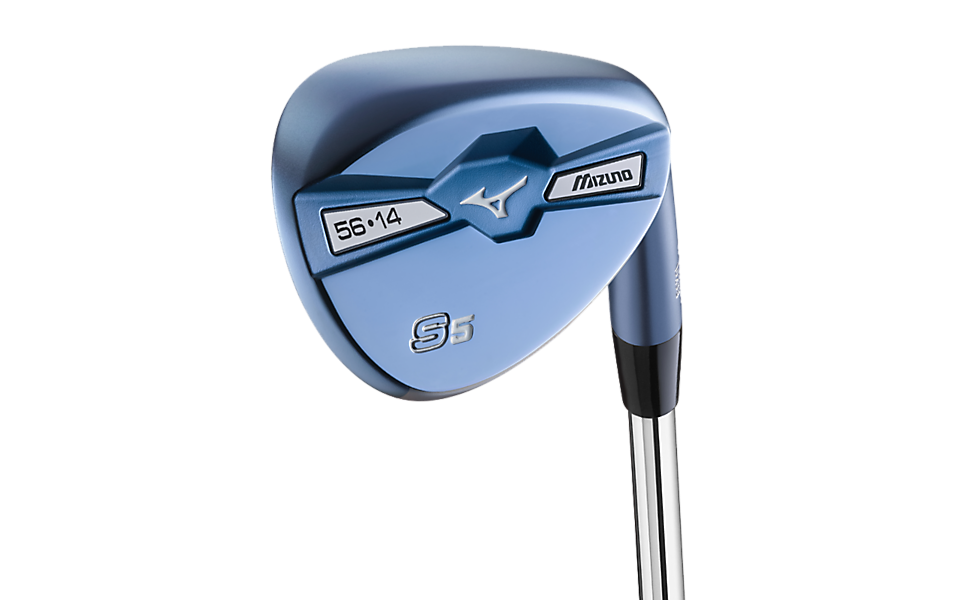 Stock Price:
CAD$ 129.99
In Stock | Style# 210714
Free Shipping on orders over $100.
Technology
Adding the S5 wedge to our arsenal gives the player, not only a new shape, but also the feel and ball control that they demand. Seeing Luke Donald immediately put this new S5 wedge in play was a great testimony that we hit every design goal we set out to achieve." -David Llewellyn, Golf R&D Director
The Quickest Way To Improve Your Game
Design Details
The S5 wedges deliver elite feel and shot control in a new enticing Silhouette profile. The Silhouette profile is a softer version of the popular Teardrop shape so that when players open and close the wedge, the profile always appears aligned to the target.
The S5 wedge is available in 25 loft and bounce offerings so all possible distance gaps may be covered. High bounce versions carry a visible 15% sole grind and the low bounce offerings carry a 25% sole grind. These grinds aid in helping the high bounce versions to play higher and the low bounce versions to play lower.
Forged from Mizuno's patented Grain Flow Forging process and carrying Mizuno's exclusive Quad Cut grooves, the S5 wedges deliver on the promise of solid feel and ball stopping spin.
Tech Specs
Grain Flow Forged: From a single billet of 1025E Pure Select Mild Carbon steel for soft, solid, consistent feel.
Quad Cut Grooves and Milled Face: CNC milled grooves and increased surface roughness for ball stopping spin.
Versatile sole grinds: The Silhouette profile is paired with distinct visible sole grinds inspired by Luke Donald - keeping the wedges versatile for an array of shots and lies.
Blue Ion and White Satin Finishes: Eye-catching looks
Specification
| Club # | Stock | RH (White Satin) | LH (White Satin) | RH (Blue Ion) | Loft º | Lie º | Bounce | Length |
| --- | --- | --- | --- | --- | --- | --- | --- | --- |
| 49-06 | | YES | YES | YES | 49º | 63º | 6º | 35.25" |
| 50-07 | X | YES | YES | YES | 50º | 63º | 7º | 35.25" |
| 51-08 | | YES | YES | YES | 51º | 63º | 8º | 35.25" |
| 52-09 | X | YES | YES | YES | 52º | 63º | 9º | 35.25" |
| 53-10 | | YES | YES | YES | 53º | 63º | 10º | 35.25" |
| 54-08 | X | YES | YES | YES | 54º | 63º | 8º | 35.25" |
| 54-12 | X | YES | YES | YES | 54º | 63º | 12º | 35.25" |
| 55-09 | | YES | YES | YES | 55º | 63º | 9º | 35.25" |
| 55-13 | | YES | YES | YES | 55º | 63º | 13º | 35.25" |
| 56-10 | X | YES | YES | YES | 56º | 63º | 10º | 35.25" |
| 56-14 | X | YES | YES | YES | 56º | 63º | 14º | 35.25" |
| 57-11 | | YES | YES | YES | 57º | 63º | 11º | 35.25" |
| 57-15 | | YES | YES | YES | 57º | 63º | 15º | 35.25" |
| 58-04 | | YES | YES | YES | 58º | 63º | 4º | 35.25" |
| 58-08 | X | YES | YES | YES | 58º | 63º | 8º | 35.25" |
| 58-12 | X | YES | YES | YES | 58º | 63º | 12º | 35.25" |
| 58-16 | | YES | YES | YES | 58º | 63º | 16º | 35.25" |
| 59-05 | | YES | YES | YES | 59º | 63º | 5º | 35.25" |
| 59-09 | | YES | YES | YES | 59º | 63º | 9º | 35.25" |
| 60-06 | X | YES | YES | YES | 60º | 63º | 6º | 35.25" |
| 60-10 | X | YES | YES | YES | 60º | 63º | 10º | 35.25" |
| 61-07 | | YES | YES | YES | 61º | 63º | 7º | 35.25" |
| 61-11 | | YES | YES | YES | 61º | 63º | 11º | 35.25" |
| 62-08 | | YES | YES | YES | 62º | 63º | 8º | 35.25" |
| 62-12 | | YES | YES | YES | 62º | 63º | 12º | 35.25" |
Standard Stock SKUS
210712 RH White Satin STEEL
210713 LH White Satin STEEL
210714 RH Blue Ion STEEL
Stock Shafts
Custom Shafts
Stock Grips
Custom Grips